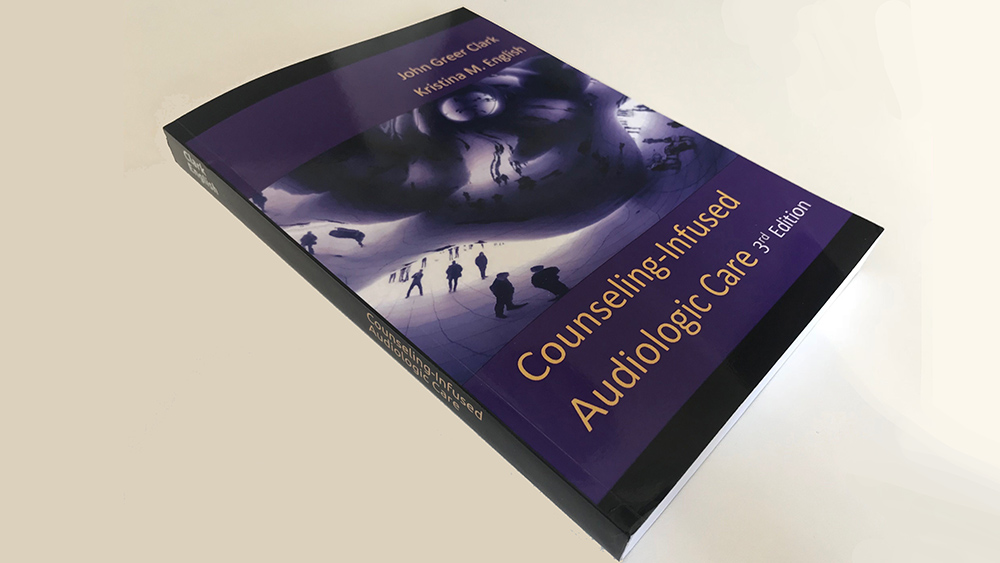 New Edition of the Textbook Counseling-Infused Audiologic Care Meets Growing Demand for Person-Centered Care
Fri May 03, 2019 10:19 AM
By Amanda Farah Cox
John Greer Clark and Kristina English have published the third edition of their textbook, Counseling-Infused Audiologic Care. The new edition features updated research supporting person-centered care as an evidence-based practice, additional learning activities and discussion questions, and a series of clinical insights to accompany each chapter. The textbook features a number of Ida materials including the Possible Patient Journey, Myth Busters, Tinnitus Management, GROUP, and the Communication Rings.
Counseling-Infused Audiologic Care looks not only at how to counsel clients, but also how clinicians can bolster themselves as empathetic, person-centered practitioners. Case studies provide real-world illustrations of counseling scenarios, while the clinical insights offer holistic approaches to different challenges.
"It is our hope that the new edition of the text will move audiologists beyond the bounds of content counseling or information transfer," said the authors. "We would like to see more audiologists be comfortable with personal adjustment counseling, which is squarely within the realm of audiology practice and fully aligned with the principles of person-centered care. Personal adjustment counseling helps audiologists to more fully engage pediatric patients, their parents, and caregivers, or adult patients and their communication partners, through the growing array of rehabilitative strategies that help patients and families attain their highest communication potentials."
New and expanded topics in the third edition of text book include:
Discussions on bullying, suicide ideation, and other difficult conversations
Discussion of implicit bias and its impact on clinical interactions
Counseling considerations for those with balance disturbances, tinnitus, and decreased sound tolerance
Information on supporting teens' transition as health care consumers
Discussion of the erosive nature of hearing loss on relationships
Considerations for end of life; palliative care and hospice
Introduction of a Question Prompt List for families of children with hearing loss
Growing demand for PCC educational resources
John Greer Clark, PhD, is the director of audiology education and Professor of Audiology at the University of Cincinnati. Kristina English, PhD, is Professor Emeritus of Audiology at the University of Akron/Northeast Ohio AuD Consortium and a member of the Ida Research Committee. Both are longtime Ida collaborators who have contributed to tool and resource development. This third edition of their text was revised in response to the increasing numbers of universities developing and including counseling courses within their programs in the past six years.
"Each year since the first edition of this text was published there have also been rising numbers of continuing education courses highlighting the value of counseling to address the psychosocial concerns of patients and families as well as the importance of augmentative non-technological interventions for hearing loss," they said.
"We have been very pleased with the reception that the new edition of our text has received from our audiology colleagues around the globe. We are especially excited that the American Academy of Audiology has continued to endorse our text as a means of attaining continuing education credits in the area of counseling for currently practicing audiologists. Audiologists make positive impacts on the lives of their patients every day. We hope our text can help make these impacts even more powerful and long lasting for those living with hearing loss."
Counseling-Infused Audiologic Care, third edition, is available to purchase now in paperback or e-book formats through Amazon.